Ecological and healthy living
Large tile formats offer many advantages
New construction in Germany is booming and refurbishment of existing buildings is also well under way. When it comes to selecting a new floor covering, ceramic tiles are often the preferred choice. In 2019, their market share was almost 25 percent and thus a quarter of total demand. Large tiles in particular are very trendy, because they look modern yet timeless. When choosing ceramic tiles from German production, you can be sure to bring an ecological floor covering into your home. And if the tiles are installed with EMICODE®-certified adhesives and grouts, you can enjoy a healthy indoor climate.
The ideal wall and floor covering should not only reflect the spirit of the times but also have timeless charm even after many years. Large-format tiles, also known as XXL tiles, are particularly suitable for this purpose. Being larger, they are installed with a smaller number of joints and thus give the impression of a uniform and apparently continuous surface. They also influence the overall appearance of the room, creating a pleasantly calm and harmonious ambiance. Thanks to large-format tiles, small rooms appear larger. This effect is further emphasized when choosing a light tile color. In large rooms, by contrast, XXL tiles convey cool and serene elegance.
In general, tiles are very easy to clean and hygienic. These properties apply in particular to XXL tiles. As they are installed with fewer grout joints, they also require less cleaning effort. Building owners who decided to have underfloor heating installed are always on the safe side with tiles. In fact, ceramic tiles are perfect conductors and quickly transfer the heat from the heating system into the room. And if you don't like the "cool" look of tiles, you can simply opt for tiles with a warm wood design. You will then have the best of two worlds: an easy-care and warm wall/floor covering that – unlike parquet – is also insensitive to water.
Breathe in fewer pollutants thanks to EMICODE®-certified building materials
When building a new house or renovating an old one, people are placing more and more importance on ecological and sustainable materials. German ceramic tiles are especially well suited as wall and floor coverings. Being manufactured in Germany from natural local raw materials, they only need to be transported over short distances and are therefore particularly resource-saving. At the same time, their production is subject to strict environmental protection regulations. However, an ecological home is not automatically healthy to live in. To achieve this aim, also tile adhesives and grouts must be free of solvents and other harmful substances.
When installing tiles in your home, you should therefore use adhesives and other installation materials that have been certified with the EMICODE® label. This vendor-neutral quality seal is only awarded to building products featuring the lowest possible VOC emissions. Independent laboratories continuously check the quality and carry out unannounced spot checks to see whether the manufacturers comply with the required limit values. Consumers can rely on the EMICODE® EC1 seal as a good indicator of products that ensure a healthy living environment.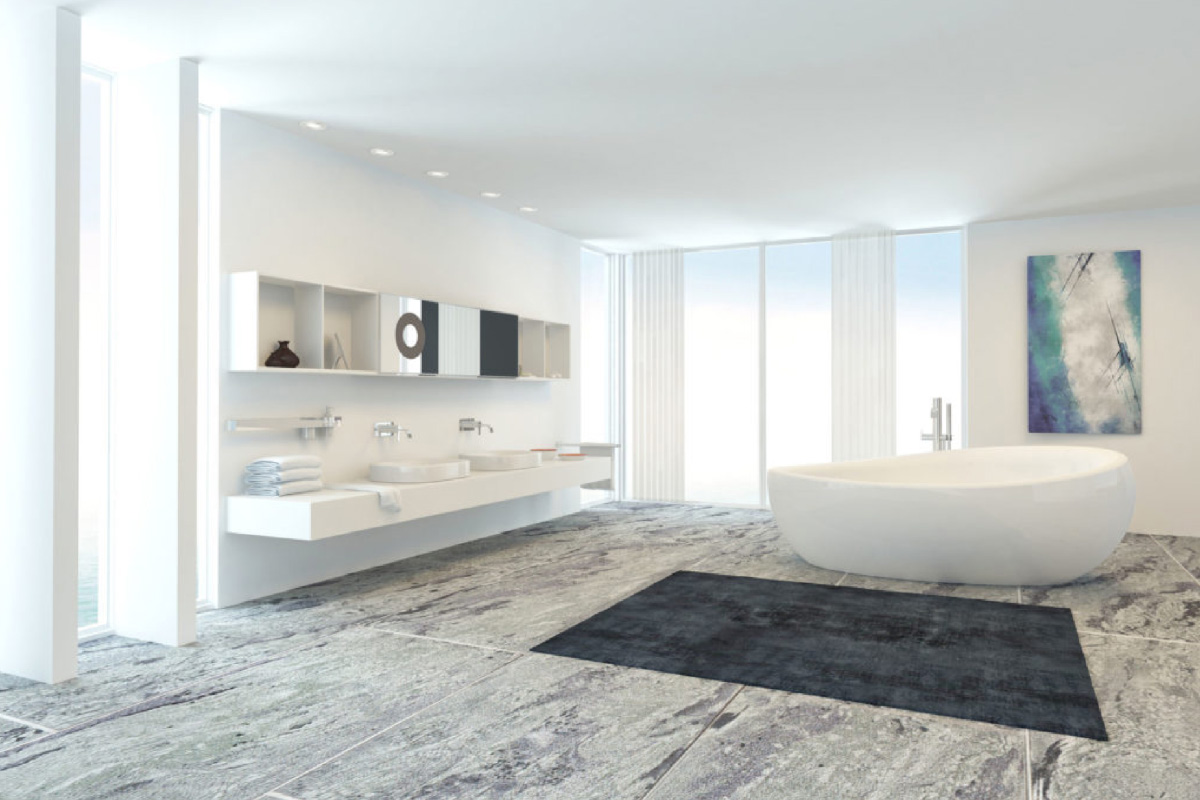 Photo: @skdesign/123rf.com
XXL tiles are trendy. Thanks to their large surface area, they have fewer joints and therefore radiate more peace and harmony. At the same time, they are more hygienic and easier to care for. If adhesives and grouts with the EMICODE® label are used for tile installation, the emission of harmful substances will be minimized and the health and comfort of your home maximized.
Do You Have Questions?
If you have any questions on certain topics or want to contact us for another reason, please contact us by phone, fax or email.
Phone: +49 211 / 67931-20
Fax: +49 211 / 67931-33